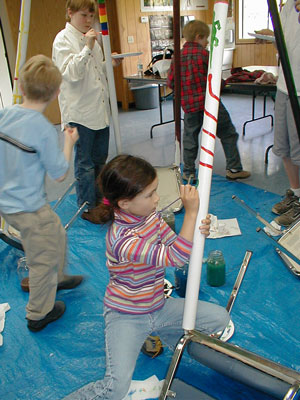 Programs Offered by Bob Effertz
Programs are created according to your need.  All programs are interactive and hands on.  The following are successful programs previously offered.   Programs can be adapted for any age group – 6 years to 101 (well maybe 102 years).
Workshops for 1 to 4 hours (can be extended over several days - please contact Bob Effertz at burmabob2@hotmail.com for rates and availability)
Australian Didgeridoo Workshop
You'll first learn about Australian Aboriginal culture and art. Then you'll make you're own didjeridu. Next everyone will learn to play the haunting sounds of this Aboriginal Australian instrument. You'll find the vibrations both soothing and healing for yourself and others. Learn basic sounds and rhythms as well as the bark of the dingo, the cry of the cockatoo, and other primordial calls. The advanced technique of circular breathing will also be taught.  The instructor, Bob Effertz, has been playing and teaching didjeridu for 15 years.
Option to this workshop:
Making and Playing the Australian Didgeridoo
You'll make your own Australian didgeridoo and then learn how to make it's haunting sounds.
Play the Panpipes from the Andes of Peru
You'll first learn about the people and the music of the Andes mountains of South America through photos, stories, and discussion. Then, you'll learn to play the fascinating panpipes from the Andes of Peru, along with a song and dance of the Quechua people of these mountains. You'll go home knowing how to make your own panpipes.
Option to this workshop:
Making and Playing the Panpipes from the Andes of Peru
You'll learn to make the incredible panpipes from the Andes of Peru.  We'll then learn to play a song of the Quechua people of the mountains.   Everyone gets to take their panpipes home at the end.
Magical Sound
In this "hands on" workshop, we'll explore what the ancient civilizations took for granted, how sound and voice can bring our body and mind into balance and harmony. First, you'll have the opportunity to create the vibrant sounds of  Japanese and Tibetan singing bowls and bells.  We'll next rediscover ways the voice has been used for thousands of years to still the mind while peacefully energizing the body.  You'll learn to create the vocal overtone harmonics used by many native cultures around the world.
Chanting in the "Cistern Chapel"
Become a Benedictine monk, or another Hildegard Von Bingen, in this rare opportunity to sing in the "Cistern chapel" of Fort Warden in Port Townsend.  You'll first learn some chants and knowledge from a variety of traditions around the world: Christian, Buddhist, Jewish, Sufi, Hindu, and Native American, as well as how to create harmonic overtones. We'll then take what we rehearsed down into the Cistern of Fort Worden - a large empty underground tank that is only opened for special musical occasions like this. The resonance of the space can only be compared to a cathedral. You may find yourself quite moved by our combined voice.
Dancing and Singing Across the Continents
Even if you've never danced and don't think you can sing, you'll enjoy this class. We'll do lively folkdances from Ireland, Peru, Philippines, Liberia, India, and elsewhere. We'll also create dances together during an improvisation workshop.  Along with the dances, you'll learn songs from around the world.   With each dance and song, we'll learn something of the culture through stories, discussion, and photos.
Amazing, Incredible, Music from the Seashore
Join us for a musical adventure on the beach.  We'll cruise the beach for anything and everything that will make a good instrument.  Along with the driftwood, sea weed and rocks, we'll check out all the beach artifacts just waiting to come to musical life.  You'll create your own special instrument and together with the sea gulls, we'll form an amazing "marine" band.  You may even get a chance to direct.  No musical background necessary, just a sense of fun and curiosity
Body Percussion and Junk Band
We'll first learn how to use our own body to create sounds and rhythms.  Next we'll turn recycled junk into instruments.  Everyone will design their own unique instrument from the junk we've collected.  We'll then learn the rhythms we need to turn ourselves into a performing junk band.
Puppets from Around the World
Experience cultures from different continents through puppets.    We'll make both traditional and untraditional puppets from various regions of the world.  Next, through a creative process, you will learn how to organize your ideas into your own puppet show.   You'll learn about each culture as we create our puppet play.   Each group will have the chance to perform for the others.
Children's Day Around the World
Join the celebration.   May 5th is  Children's Day in Japan.   We'll start our fun filled kid's tour there, and then head out to India, Australia and onward.   We'll play games, sing, dance, and play musical instruments. You'll find out what kids love to do around the world and get to know a bit about other cultures
Australian Day Celebration
January 26 is Australia's official national day to commemorate the landing of the first English colonists in Sydney on that day in 1788.  It is also called "Invasion Day" by the Aboriginal people who already lived in Australia for thousands of years.  In this program, we will celebrate the history of Australia through music, art, and dance. You will be treated to live music on one of the world's oldest instruments- the didgeridoo.  Hear the bark of the dingo, the whirl of the boomerang, the call of the cockatoo.  You'll learn some special movements to go with the music, such as the kangaroo bounce and the emu strut.  After a few stories and learning a bit of Australian slang, you'll do some Aboriginal dot art and sand painting.